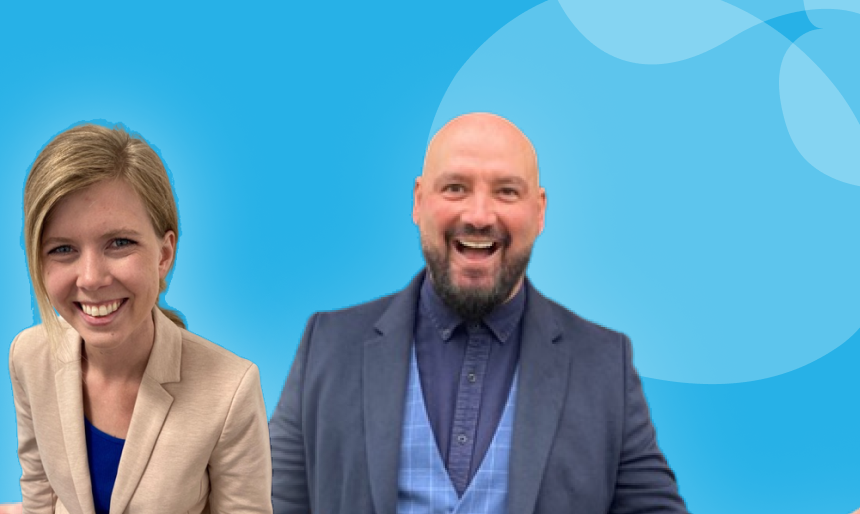 Meet the Team Interview: Camilla Bocănială and Liviu Bocănială
Introduction
Meet Camilla Bocănială (Project manager and trainer) & Liviu Bocănială (Trainer, facilitator and operational manager), who work for Polylogos, and who Coordinate the BOND project.  
Firstly, tell us a bit about your organization
Polylogos is a politically independent NGO based in Cluj, Romania, working to shape inclusive community, strengthen democracy, and empower aspiring leaders of all ages, particularly youth. Polylogos means, by extension, from Greek, multiple rationales, multiple perspectives or multiple points of view. We provide a platform for bridging ethnic, religious, political, generational and other societal divides, encouraging open and constructive dialogue, and challenging all types of group-focused hatred and discrimination. We do this primarily through projects, events and activities focused on civic education, youth empowerment and mentorship, awareness raising, trainings and workshops, democracy promotion and dialogue. 
The Polylogos team of professionals is dynamic, international and from a diverse set of backgrounds, from political science, peace and conflict studies, gender studies, business management, creativity industries, and more. Our team is strengthened by our extended team of mentors – seasoned professionals and experts who have longstanding experience from various fields, and who are passionate about investing in a new generation of young leaders. 
What is the motivation behind your organization getting involved in the BOND project?
The BOND project encompasses themes and strategic objectives that are aligned with the Polylogos mission. The BOND project is about building tolerance, understanding and dialogue across communities, offering a practical way for us to act out the values and concepts that are central to the Polylogos identity, and which we, as a team, strive for every single day. While BOND focuses particularly on addressing anti-semitism, it also offers the chance to look at how this relates to other forms of discrimination and intolerance in our societies today. BOND provides evidence-based and practical solutions, including training teachers, empowering youth and fostering dialogue, to addressing the real and growing threat of antisemitism and other forms of group-focused hatred across our region. 
How is BOND different from other projects that are facilitating interfaith and intercultural dialogue?   
BOND is unique in that it brings together not just experts and leaders, but also every-day people who might otherwise not have offered this topic any thought or consideration. Dialogue, while being a distinct activity in the project, is also an ongoing integral part of all the other project activities – from research to training and awareness-raising. BOND brings people into the conversation that would otherwise be left out of typical interfaith and intercultural dialogue processes. In this sense, the dialogue activities that are planned throughout the BOND project not only facilitates tolerance and understanding, it also educates and raises awareness, bringing in fresh and dynamic perspectives, and fostering a sense of community that bridges all kinds of divides in society. 
What do you hope to achieve through the project?
We hope that we will have a better understanding of what anti-Semitism looks like today in our region, what the current trends are, and how we can foster counter-narratives that prevent the spread of anti-Semitic narratives and hate-speech. We hope that we will have developed networks, alliances and communities across countries, sectors, groups and religious circles, that will continue to support one another and work together for a more equal, fair and safe world. We hope that many people in our countries will have a better understanding of the history of the Jewish people, their current situation, and the danger of anti-Semitism and all other forms of group-focused hatred and discrimination in the world today. And, of course, we hope that we will form friendships and communities that bridge divides, and that will foster tolerance and understanding for years and years to come.   
What do you see is the greatest challenge for fostering understanding and tolerance between different religious communities?
We believe the greatest challenge is always the first step – bringing them together in the same room, to share experiences, perspectives and challenges. In our experience, getting into a conversation with someone of a different faith, without trying to convince him or her that they are wrong to believe as they do, can feel threatening or uncomfortable to some. There might be fears of being judged or misunderstood. All of these are normal and human reactions, and could present as barriers to people wanting to participate in the first place. The most challenging part of our job will be to create a safe space, and show people the value and purpose of participating in dialogue. 
What do you personally find most interesting about the BOND project?
We are most curious to see how the dialogue activities will pan out. It is always interesting how a conversation develops when bringing together people from different backgrounds, communities and groups. So many new perspectives and ideas can come out of this process, if we do it well. To us, having people share their experiences and perspectives is valuable in and of itself; if we can also come to some shared understanding and practical conclusions about what should be done to improve the situation in our local communities, that is a great bonus. We are curious to see who will be the most eager to participate, who will show resistance, and what creative ways we will find to encourage more people to engage in the process.